Next stop: the Internet, where I discovered there was a seminar being held in Kyoto for foreigners aboutJapanese gardens (June, 1999). I was told the seminar enrollment was full. However, at the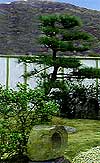 last minute someone canceled, and becauseI was already living here, they contacted me, and I was able to go on a week's notice.
The seminar was inspiring, and I wanted to do more hands-on training. But even the leaders of the seminar were a bit elusive about how this could happen. I was advised to find a landscape design company that would let me work with them. How to do that, I had to figure out on my own.
My main interest was in finding out how the pines got those wonderful shapes.
On a visit to the famous Ritsurin Koen in Takamatsu, they happened to be trimming pines while we were there. I got up the nerve to ask one of the workers if they ever accepted interns. He called his boss, who told me "no," but recommended I contact the prefectural job re-training center in my area.
But how to find this place?? In our relatively small city, we are very fortunate to have 2 active international associations. I made a visit to one to ask for their help. They contacted the job re-training center for me, and we learned that you had to be 55+ years old to be accepted. I asked them if they had any other ideas how I could learn to trim pines. They then contacted the landscaper's association for the prefecture. Within a few days, a meeting with the head of the association was arranged, and I was introduced to Mr. Kumio Tagawa.
Mr. Tagawa is the owner and head landscaper for one of the largest landscape design companies in the area, "Nankai Zoen." He was glad to meet me, and said I was welcome to come work with him as much as I wanted. (Although this exchange was in Japanese, and of course language skills are always helpful, much hands-on learning is possible with very few words.)
Wednesdays are the day that I am free to do gardens. As it turns out, that is the day Nankai Zoen is closed. So instead of learning with his crew, Mr. Tagawa gives me private lessons trimming the pines he has been working on for decades in his own nursery (yard??field??).